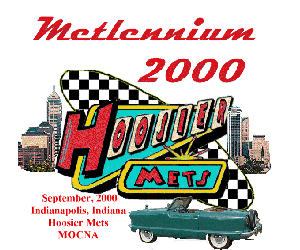 The Metlennium 2000 was a sanctioned
Metropolitan Owners Club of North America Regional Meet.
It was held in conjunction with the Hoosier Auto Show and Swap Meet
at the Marion County Fairgrounds in Indianapolis.
The event was held from September 15 through the 17th, 2000.
The show cars were on display at the Swap Meet inside a large building.


We hope that all who attended Metlennium 2000 had a great time
and those who could not share some of that
HOOSIER METS HOSPITALITY
will get to see what went on in Indy during the weekend of the
METLENNIUM 2000
Click here to see the Metlennium award winners,
the guests, the cars and the fun.