The Hoosier Mets Celebrated our 10th
anniversary during the month of September, 2001.
The idea of starting a chapter of MOCNA in Indiana
was born in Louisville, KY at the MOCNA
International Meet in 1991
Letters were sent to all of the Indiana members of MOCNA,
inviting them to join the Hoosier Mets chapter. Our
dues started out at $5.00 per year, and are still that today.
The initial response was phenomenal. We got over 20 responses and
members right away, and at our first meeting, in New Castle, IN,
the attendance was over 25 people.
Indiana DID need a chapter for the Met.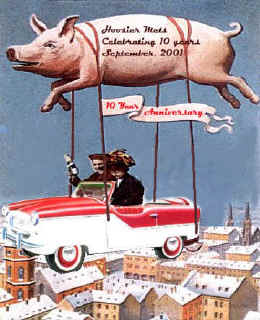 Now, do you wonder why this pig is flying AND carrying a Met?
Our anniversary was celebrated in the town of Tipton, IN, in
conjunction with the WORLD FAMOUS Pork Festival.
The theme is of course, PIGS. All of the Hoosier Mets members
who brought their cars decorated them with
stuffed pigs (the fluffy ones, of course).
This effort paid off for our club.
We won 1st Place in the parade we were in.
So, here we are, 15 years later, stronger than ever, with a membership
of over 90 families. Our meetings always have in attendance about 30 or more
members and guests. We wanted to have that kind of attendance
or better at our celebration of 15 years of success and we outdid ourselves
We had in attendance on September 8th, 40 members and 14 Mets.
What a great turnout of our members. Our celebration
was a total success and we would like to share some of those
moments in the pictures below. Click on the thumbnail
to see a full size picture.
Click here to return to our Home Page