1953 First cars were named "NKI" (Nash Kelvinator International) 270 cars made
1954 12,443 cars made
1955 7,294 cars made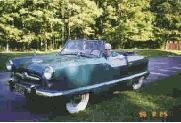 1956 8,169 cars made
1957 15,348 cars made
1958 13,323 cars made
1959 21,040 cars made
1960 15,548 cars made
1961 1,216 cars made

Total Production 94,968
Total Hardtops 75,569
Total Convertibles 19,399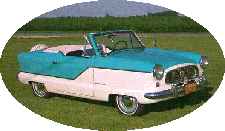 Total sold by Hudson Dealers
with the "Hudson" emblem 4,358

Total sold by Nash Dealers
with the "Nash" emblem 15,644


(The remainder of the cars were sold with the familiar "M" emblem)

Some people estimate that only about 10% of the Metropolitans made now survive. So often, it will take several "parts cars" to produce one good car.

Look for the Met in several TV ads, movies, and shows. For instance, Granny in the Sylvester and Tweety Mysteries cartoon drives one. Her Met was featured in a cartoon recently in which aliens crash landed on earth and one of the items listed in the repair manual needed to fix their ship was a radio knob from a Nash Metropolitan.